>> | Home | Books | Visit | Explore & More | Events | FAQs | Contacts
Hemyock Castle
Ancient Heart of the Blackdowns
---
Hemyock Residents Remember WWII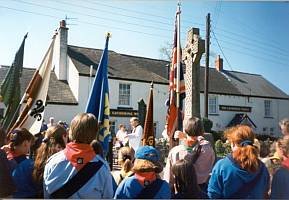 "Colours" at Hemyock's VE Day Service
These pages contain extracts from the book Hemyock Memories of WWWII. The book includes memories of service both at home and overseas during World War Two (1939 – 1945). These initial extracts concentrate on memories of life in Hemyock – On the "Home Front." Pages in this series:
Introduction; Wartime Life; Homeguard; Farming; POWs; Aircraft; Evacuees; Memories; War Carpenter
---
See also our YouTube videos, including some "spoken" eyewitness accounts from the book:
YouTube Videos: Hemyock people's first-hand memories of WWII
---

Hemyock's War Memorial
Introduction
In 1995, as part of the Hemyock Commemorations of the fiftieth anniversary of the Allied Victories in Europe and Japan (VE Day and VJ Day), Margaret Sheppard and Norman Lowman collected first hand accounts from more than eighty resident of Hemyock, of life during the Second World War. Although obviously not a complete record, these memories do show how ordinary people were able to rise to the occasion and "do their bit" both in the armed forces and on the "home front."
"United they Stood" with one main, clear-cut objective – to defeat the enemy and so free not only this country but other parts of the world from the threat of Dictatorship and Fascism. Those of us who have been born since the War owe them a great debt for their Service and Sacrifice.
---
Resident from this small Devonshire village served all around the world. Due to wartime secrecy and their subsequent desire to return quickly to normal life, several people only considered their travels when providing these recollections. Some were surprised they first saw the locations on a world map. The accounts of those who served on the "home front" were hardly less extraordinary.
These memories formed part of the very successful exhibition held in Hemyock Baptist Church over the weekend of 6th to 8th May 1995. Many people kindly lent precious photographs and souvenirs.
---
Due to the passage of time, many of the contributors have since died.
---
Other pages in this series:
Introduction; Wartime Life; Homeguard; Farming; POWs; Aircraft; Evacuees; Memories; War Carpenter
---
Hemyock Memories of WWII – the Book
The memories were published originally in 1995 as a 65 page, A4 booklet, illustrated with many photographs. All profits went to the Royal British Legion.
The text has been extensively re-edited and republished in Amazon Kindle format, in aid of Hemyock's Blackdown Support Group charity, it is equivalent to about 115 A5 pages. The photographs have been made into online slideshows.
The complete WWII "Box Set," Hemyock Memories Volume 5, contains all the WWII volumes 0, 1, 2, 3, 4 covering life during World War II 1939-45. These Memories of WWII Kindle books contain eyewitness accounts by residents of Hemyock, of their life during WWII, both serving overseas and on the "Home Front."
Links to video slideshows
For convenience, the photos have been arranged in four groups, forming four slide shows, each lasting about four minutes. The slide shows have been uploaded as 1080p HD. This means that they can be viewed using most types of computer or mobile devices and at any of the resolutions supported by YouTube. Contact us for a DVD version of these slideshows, or versions in other formats.
Links to the Amazon Kindle pages:
---
---
Home | Books | Visit | Explore & More | Events | FAQs | Contacts
---
---
Hemyock Castle, Hemyock, CULLOMPTON, Devon, EX15 3RJ, UK.
© 2001–2021. Prepared and published by Curlew Communications Ltd