>> | Home | Books | Visit | Explore & More | Events | FAQs | Contacts
Hemyock Castle
Ancient Heart of the Blackdowns
---
Commonwealth War Cemetery near Trincomalee, Sri Lanka

Commonwealth War Cemetery near Trincomalee, 2004
Due to its large natural harbour, for many years Trincomalee in north eastern Sri Lanka was an important Royal Naval base. In spite of the subsequent long, brutal civil war, the large Commonwealth War Cemetery nearby is still carefully tended. Being on slightly higher ground, it survived the 2004 Asian Tsunami.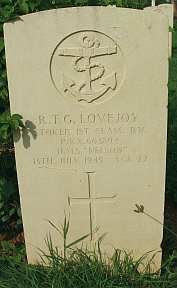 WWII Grave of RN Stoker Lovejoy near Trincomalee
This grave of RTG Lovejoy, Stoker First Class RN, HMS Nelson, is one of many which date from the Second World War.
---
---
---
Home | Books | Visit | Explore & More | Events | FAQs | Contacts
---
---
Hemyock Castle, Hemyock, CULLOMPTON, Devon, EX15 3RJ, UK.
© 2001–2021. Prepared and published by Curlew Communications Ltd