>> | Home | Books | Visit | Explore & More | Events | FAQs | Contacts
Hemyock Castle
Ancient Heart of the Blackdowns
---
Our Heritage Open Day 11 September 2022 – Book Now
Sad death of Her Majesty The Queen Elizabeth II: The central organisers of Heritage Open Days have decided to continue with England's festival. So our #free event on Sunday 11th September 2022 will continue
Note. Hemyock Castle will NOT be open on Sunday 18th September 2022
---
Hemyock Castle and Village will again take part in this hugely popular celebration of culture and heritage. For HODs2022, we plan to offer both physical & video online tours.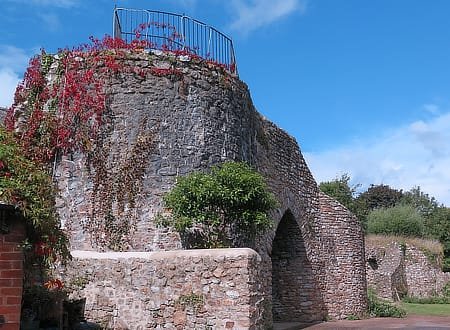 ---
Hemyock Castle is set in the now tranquil Culm Valley within the beautiful Blackdown Hills in Devon, just a few miles from the M5 Motorway and Taunton. The rare surviving ruins of Hemyock's moated medieval castle are a scheduled Ancient Monument. The remaining gatehouse archway, towers & curtain-walls surround the older manor house. Although situated in the heart of Hemyock village, the castle site is screened by trees and walls, so surprisingly little can be seen from the road.
In 1380, King Richard II granted a licence to crenellate the older fortified manor house; effectively giving "planning permission" for the castle. During the English Civil War the castle was garrisoned for Parliament against King Charles I. There were after two brutal sieges. Royalist captives were imprisoned until either they changed sides or were ransomed by their friends. Therefore, when King Charles II was restored to the throne he ordered the castle be "slighted" – its walls and towers were breached so that it could never again be held against the King. Later, the old manor house became a farm house, the old castle buildings were adapted, and the ruins were "quarried" for stone. For the next 300 years until the early 1970s, Hemyock Castle was Castle Farm.
Most of the ruins were not "restored" by later owners, so they date from the original castle defences. A large part of the Eastern gatehouse archway remains, together with parts of some towers, curtain-walls & moat. Visitors also see the Interpretation Centre & other displays. The manor house and some other buildings are private homes, so are not open to visitors.
---
Free Pre-Booked Physical Tours of Hemyock Castle
Sunday 11th September 2022, 2 to 5pm
Book now: Entry Times: 2pm, 3pm, 4pm. Approx. 15 bookings per hour.
Please book using the email address:

Free pre-booked self-guided tours of Hemyock Castle site, cider-press & farmyard displays, mostly outdoors with some access to buildings. Visitors can follow the trail around the moated Medieval castle ruins and view displays illustrating 700 years of the site's history.
Onsite parking available only for pre-booked disabled access. Parking is available on the street or in the village carpark near the Baptist Church.
Note. A section of the path leading to the rear and to our Interpretation Centre is sloping, deep gravel. Wheelchair users will probably need able-bodied assistance.
Self-guiding leaflets can be downloaded free in PDF format from https://www.hemyockcastle.uk/visitor.html
Our new guidebook is available in Kindle format from Amazon (free Kindle reading apps are available for most devices), and as a nicely printed version from Hemyock Castle for 2 Pounds (cash only).
Displays for Heritage Open Days include:
---
Covid Precautions – May Change at Short Notice
If any of your party have recently had or been in contact with Covid-19, please do not visit our site.
To allow more space, it will be mostly outdoors, with pre-booking to reduce crowding, less onsite parking & a one-way system. Some access to our indoor displays such as the Interpretation Centre, where there will be extra ventilation. Please make sure that all members of your party, including children, observe social distancing. There will be no need to touch anything, but please bring your own hand sanitizer etc.
We hope that these simple precautions will allow visitors to have a safe, enjoyable visit.
---
St Mary's Church just across the stream next to Hemyock Castle, is also planning an open day at the same time. They plan to have a special exhibition & to offer teas.
---
Free Online Video Tours
Our special playlist of our YouTube videos includes new videos: Free-to-view on demand via the Internet using PC / Mac, smartphone, tablet or smart TV. No need to book or log in, except to ask questions. "Subscribe" (free) to the RichardSheppard1 YouTube channel for reminders etc. This channel also has the YouTube ID: richard2s
Tip 1: Use our special YouTube playlist and click YouTube's "Play All" option, to avoid being diverted by YouTube.
For more details, see our free online video tours webpage.
---
Heritage Open Days are part of European Heritage Days, a Council of Europe initiative. They are co-ordinated by The National Trust with funding by players of People's Postcode Lottery. Heritage Open Days activities will take place throughout England from 9th to 18th September 2022, with different events on the different days.
Hemyock Castle receives no funding, and makes no charge for entry or events during our Heritage Open Days. We welcome donations to The Blackdown Support Group & Musgrove Leukaemic Group Somerset
---
Similar Events:
---
---
Home | Books | Visit | Explore & More | Events | FAQs | Contacts
---
---
Hemyock Castle, Hemyock, CULLOMPTON, Devon, EX15 3RJ, UK.
© 2001–2023. Prepared and published by Curlew Communications Ltd