>> | Home | Books | Visit | Explore & More | Events | FAQs | Contacts
Hemyock Castle
Ancient Heart of the Blackdowns
---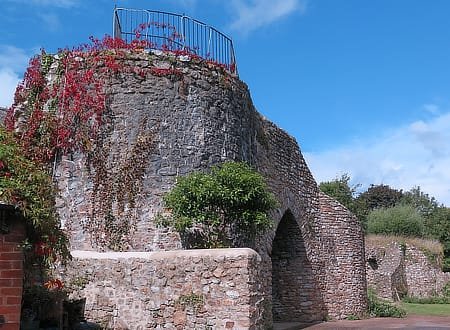 Hemyock Castle, the remains of a rare late 14th century moated medieval castle, surround a much older manor house. It is set in the now tranquil Culm Valley in Devon, England, just a few miles from the M5 Motorway and Taunton. The site is a scheduled Ancient Monument. It is normally open to the public only on Bank Holiday Mondays (2 to 5 pm) between Easter and September:
---
Precautions against COVID-19 Coronavirus, 2022:
During 2022, we plan to open normally, but ask visitors to be careful & considerate
Please do not visit Hemyock Castle if you are likely to have been in contact with the COVID-19 virus during the previous two weeks, either from a possibly infected person or by travelling in one of the virus "hot spots."
In addition, we offer online video tours & free-to-attend online events. We post details on this website, our @HemyockCastle Facebook page, and our @HemyockCastle Twitter account.
No-one knows how problems this virus will develop. We hope it is soon over. Our aims are to protect our visitors, our residents, and ourselves – many of whom are in the "at risk groups" – while if possible offering public open days when it is safe.
This is our current plan to reduce risks during our future public open days. We will of course respond to any relevant government advice or regulations that we know about. Our plans may have to change, possibly at short notice. We will do our best to post any changes on this website, our @HemyockCastle Facebook page, and our @HemyockCastle Twitter account. We welcome feedback, suggestions and advice.
Special Measures to Reduce Risks:
The idea is that visitors will explore the grounds and ruins by themselves, aided by our new guidebook and signs. There will be a one-way route, to minimise congestion, so visitors will be able to keep a safe distance.
No booking necessary, except for our Heritage Open Day on 11th September 2022.
All visitors, including children should observe social-distancing etc.
One-way tour route.
Access to open-air areas, ie. the grounds, ruins, & farmyard displays.
Our Interpretation Centre and other indoor areas will be open, but visitors are asked to avoid crowding.
No need to touch anything, but visitors should bring their own hand-sanitiser etc.


No loans of our reusable guide leaflets (to avoid these transmitting viruses).
Our new 16-page printed guidebook (2 Pounds, cash only please) contains much expanded information for self-guiding and for getting the most from your visit.


Climbing of the gatehouse tower, at visitor's own risk.
There will be less supervision. So please take special care of children, especially near the moat.
As always, no climbing or sitting on the fragile ancient walls.
Other precautions and behaviours as recommended by government.
Clearly, there is much uncertainty at present, so our plans may have to change. We welcome feedback, suggestions and advice.
---
---
---
Home | Books | Visit | Explore & More | Events | FAQs | Contacts
---
---
Hemyock Castle, Hemyock, CULLOMPTON, Devon, EX15 3RJ, UK.
© 2001–2022. Prepared and published by Curlew Communications Ltd