>> | Home | Books | Visit | Explore & More | Events | FAQs | Contacts
Hemyock Castle
Ancient Heart of the Blackdowns
---
Glimpse of the Interpretation Centre
Displays and life-sized tableaux in the Interpretation Centre depict life through the ages. Examples are shown below.
---
Fortifying Hemyock Castle
Fortifying Hemyock Castle would have been very expensive - perhaps Lady Margaret had to sell some of her jewels?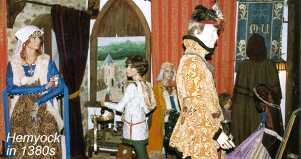 ---
The Civil War
Hemyock Castle was garrisoned for Parliament, and used to imprison Royalists including The Reverend James Burnard.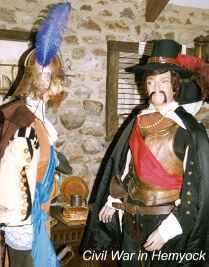 However, Puritan life carried on.
---
Castle Farm
After the Civil War, Hemyock Castle became a farm. Farmers included the Tuck family, during the 1850s.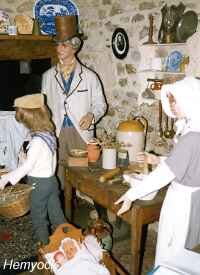 ---
The Rectory
Nearby, life at the Rectory was refined; waited on by a daughter of the Hemyock Castle farmer.
---
---
Home | Books | Visit | Explore & More | Events | FAQs | Contacts
---
---
Hemyock Castle, Hemyock, CULLOMPTON, Devon, EX15 3RJ, UK.
© 2001–2021. Prepared and published by Curlew Communications Ltd