>> | Home | Books | Visit | Explore & More | Events | FAQs | Contacts
Hemyock Castle
Ancient Heart of the Blackdowns
---
Influential Women
These webpages honour six of the influential women associated with Hemyock Castle: Links to other webpages in this series.
---
1. Margaret Hidon (Hydon), 1272 – 1357
13th century heiress who married and was widowed three times, preserving her family's property at a time when women had few property rights.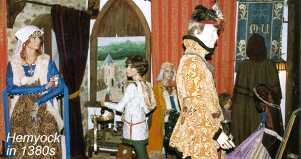 Margaret Hidon was the heiress and daughter of Sir Richard Hidon of Hemeock (Hemyock), the last Hidon (aka Hydon) to own the manors of Clayhidon and Hemyock. She inherited these two manors from her father, as there was no male heir, and also inherited the manors of Morleigh and Storridge from her mother Isabel Fisacre. These families were all of Norman descent: Their ancestors had either accompanied William the Conqueror in 1066 and been rewarded with English lands, or had moved from Normandy during the next 100 years.
Marriage to Sir John Dynham
In 1292, Margaret Hidon married Sir John Dynham (aka Dinham) the son and heir to the powerful Sir Oliver Dynham, from another Norman family: The influential Dynhams of Hartland (who held several other manors such as Nutwell, near Lympstone). Sir Oliver held various manors including Hartland.
Margaret and John had two sons, John and Oliver. John their first son was born in 1295; The heir to his father's main estates. In 1297, Margaret gave birth to her second son, Oliver.
Their Son, John Dynham's Proof of Age
Margaret gave birth to her oldest son John, on September 14th 1295, while with her husband at their manor at Nutwell. According to his Proof of Age, John was baptised that same afternoon at Lympstone Church, by Sir Oliver Dynham's chaplain. Two parishioners – Richard de Lenne and William Dauney had been present at the baptism and had seen the baby held by Emmar Fychet. Sir Gervase Ralegh, who had come to Nutwell that same day to invite Sir Oliver Dynham and his wife Joan to his wedding, had seen the baby being carried back from the baptism by his godfather Henry Daumfroum.
Sir John de Vautert stated that he had seen the baby on his grandmother Isabel Fisacre's lap, two days later when he came to be granted land by Sir John Dynham.
The next day another knight, Sir Reginald Cifford, had given the baby a gold ring. This was the day when Sir Oliver Dynham had sent a letter to Sir Nicholas Kyrham inviting him to the "uprising of Margaret" (baby John's mother). Margaret Hidon's sister had sent her husband's servant, John de Kylrington, with a present for the baby.
Sir John Dynham died in 1300 or 1301. Margaret held the Dynham estates in trust for her two young sons: The main Dynham estates for John the elder son; but the Hidon estates (including Hemyock and Clayhidon), for Oliver.
Marriage to Sir Gilbert Knoville
Margaret then married her second husband Sir Gilbert Knoville. He was a widower with children. Sir Gilbert died in 1313 or 1314. Margaret retained Sir Gilbert's estates for life, in trust for his son and heir John Knoville.
Margaret had to "battle" to keep control of these estates: Medieval Rolls record various court cases that decided in her favour.
Marriage to Sir Peter de Uvedale
In 1324, she married her third husband, Sir Peter de Uvedale. He was born in 1296 so must have been much younger than her. They quite likely made their manor house at Hemyock their main home. They endowed a Chantry Chapel at Hemyock Parish Church, dedicated to the Blessed Virgin Saint Katherine. They also added a South Aisle to the Church and endowed lands at Church Stanton that supported a priest to chant daily masses in this chapel for the repose of the souls of Margaret's parents (Sir Richard and Lady Isabel Hidon), and later for themselves. Margaret's parents and later Lady Margaret and Sir Peter de Uvedale, were buried in a crypt under this chapel. The Dynham coats of arms adorned the walls.
The Chantry priest was supplied with a small house: Perhaps this was the present Sir William Guardhouse at Hemyock Castle? There is an ancient blocked up archway in its North Wall.
In 1330 the endowed lands at Church Stanton consisted of "one messuage, 50 acres of land, 12 acres of meadow, 12 acres of willow bed, and 27/- rent for their appurtenances."
Sir Peter de Uvedale died in 1336, and Lady Margaret a few years later. Daily masses were recited for the repose of their souls for over 200 years until The Reformation under Henry VIII outlawed such practices.
Margaret must have been a formidable woman to have survived still in control of her lands through three widowhoods and finally managing to marry her "toy boy" Sir Peter de Uvedale! Was he the "love of her life"?
---
Other webpages honouring six of the influential women associated with Hemyock Castle:
---
---
Home | Books | Visit | Explore & More | Events | FAQs | Contacts
---
---
Hemyock Castle, Hemyock, CULLOMPTON, Devon, EX15 3RJ, UK.
© 2001–2021. Prepared and published by Curlew Communications Ltd