>> | Home | Books | Visit | Explore & More | Events | FAQs | Contacts
Hemyock Castle
Ancient Heart of the Blackdowns
---
Heritage Open Days 2018 in Hemyock, Devon
On Sunday 9th September 2018, from 2 to 5 pm, Hemyock Castle and Village again took part in this hugely popular celebration of culture and heritage.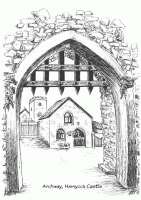 Hemyock is set in the now tranquil Culm Valley within the beautiful Blackdown Hills in Devon, just a few miles from the M5 Motorway and Taunton. The rare surviving ruins of Hemyock's moated medieval castle are a scheduled Ancient Monument. Come & view the remaining gatehouse archway, towers & curtain-walls which surround the older manor house. Although situated in the heart of Hemyock village, the castle site is screened by trees and walls, so surprisingly little can be seen from the road.
---
Note. Hemyock Castle will NOT be open on Sunday 16th September 2018.
Special events on Sunday 9th September 2018 from 2 to 5 pm:
Hemyock Castle: Sunday 9th September (2 to 5 pm):

Six Extraordinary & Influential Women associated with Hemyock Castle; Including Joan Illery who successfully petitioned the courts & Parliament for years for compensation, after her husband was hanged by Royalists who besieged Hemyock Castle in 1643/44
Centuries of Trade & Links with Continental Europe; Using artefacts found at Hemyock Castle to demonstrate centuries of close links with continental Europe, for trade, people, and ideas; part of the European Year of Cultural Heritage 2018:
Dungeon – archaeological finds
Ancient Cider Press
Traditional Farming Tools
Teas, in aid of The Alzheimer's Society
St. Mary's Church: Sunday 9th September (2 to 5 pm):

Special Display: Hemyock in the World Wars
3:30pm, Talk: Hemyock's WWI Allotments
Teas
---
Heritage Open Days are part of European Heritage Days, a Council of Europe initiative. They are co-ordinated by The National Trust with funding by players of People's Postcode Lottery. Heritage Open Days 2018 activities will take place throughout Britain over two weekends in September: 6-9 & 13-16 September 2018, with different events on the different days.
European Year of Cultural Heritage – UK is the UK's part of The European Year of Cultural Heritage, a new European initiative.
Hemyock Castle receives no funding, and makes no charge for entry on Heritage Open Days. We welcome donations to The Blackdown Support Group & Musgrove Leukaemic Group Somerset.
---
Similar Events:
Doors Open Days in Scotland
Open Doors Days in Wales
European Heritage Open Days in Northern Ireland
Open House London
European Heritage Days
European Year of Cultural Heritage – UK
---
Postcode of Hemyock Castle: EX15 3RJ
---
Home | Books | Visit | Explore & More | Events | FAQs | Contacts
---
---
Hemyock Castle, Hemyock, CULLOMPTON, Devon, EX15 3RJ, UK.
© 2001–2021. Prepared and published by Curlew Communications Ltd