>> | Home | Books | Visit | Explore & More | Events | FAQs | Contacts
Hemyock Castle
Ancient Heart of the Blackdowns
---
Wassailing Killerton Cider Orchard 2002
Traditionally, to ensure a good apple crop, wassails are held in cider orchards. A local ceremony is held on "twelfth night" – January 6th (Epiphany, also known as old Christmas Day).
In spite of very heavy rain, people gathered around a token cider apple tree in Killerton's cider orchard to celebrate the previous year's crop and "drive out evil influences."
The Voices in Common group from Exeter and friends led singing, ceremonies, and dancing.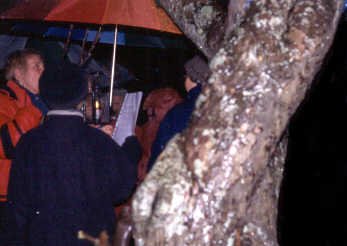 Wassailing the Cider Apple Tree.
Live Recordings (in MP3 Format)
Note: The rain was very heavy, affecting the performers and their instruments. The recording tape (from a basic portable cassette recorder) was later damaged. But these recording give a flavour of this memorable and enjoyable event.
The Circle Dance was recorded by a dancer circling the tree and musicians, so the sound changes as the dancers move around the circle, approaching and then retreating from the musicians.
Click the links below to hear these extracts of wassails in MP3 Format. (Most web browsers can play this format.)
---
Home | Books | Visit | Explore & More | Events | FAQs | Contacts
---
---
Hemyock Castle, Hemyock, CULLOMPTON, Devon, EX15 3RJ, UK.
© 2001–2021. Prepared and published by Curlew Communications Ltd