>> | Home | Books | Visit | Explore & More | Events | FAQs | Contacts
Hemyock Castle
Ancient Heart of the Blackdowns
---
After the Ban: Boxing Day Meet, 2005
Master & Hounds
Hemyock's traditional Boxing Day Meet, the first following the new Hunting with Dogs Act was held on Monday 26th December 2005.
The "Master"
The "Taunton Vale Harriers" and crowds of people thronged the centre of Hemyock: Wearing his traditional green rather than "Hunting Pink," the Harrier's "Master" addressed the Meet.
Stirrup Cups
The Catherine Wheel provided traditional "Stirrup Cups" and refreshments.
Riding Out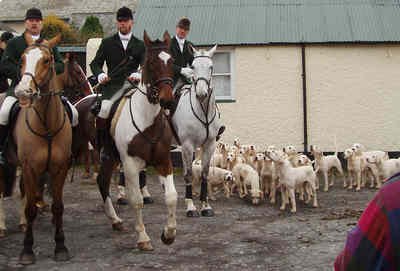 The Harriers rode south from Hemyock, up Cornhill and Castle Hill.
---
The Hunting with Dogs Act came into force at midnight on 17th February 2004.
---
---
---
Home | Books | Visit | Explore & More | Events | FAQs | Contacts
---
---
Hemyock Castle, Hemyock, CULLOMPTON, Devon, EX15 3RJ, UK.
© 2001–2021. Prepared and published by Curlew Communications Ltd