>> | Home | Books | Visit | Explore & More | Events | FAQs | Contacts
Hemyock Castle
Ancient Heart of the Blackdowns
---
Heritage Open Days 2003 in Hemyock, Devon
On Sunday 14th September 2003, from 2 to 6 pm, Hemyock Castle and Village again took part in this hugely popular celebration of culture and heritage.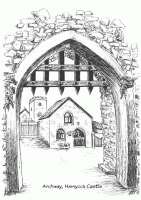 Hemyock is set in the now tranquil Culm Valley within the beautiful Blackdown Hills in Devon, just a few miles from the M5 Motorway and Taunton. Hemyock Castle is a scheduled Ancient Monument. Although situated in the heart of Hemyock village, the castle site is screened by trees and walls so surprisingly little can be seen from the road.
---
Special events on Sunday 14th September 2003 from 2 to 6 pm included:
Hemyock Castle (2 to 5 pm):

Special Opening in aid of Sight Savers of Southern Sri Lanka.
Castle Tours - to view conserved ruins and moat.
Castle Interpretation Centre.
Ancient Cider Press.
St Mary's Church (2 to 6 pm):

Historical and Photographic Displays.
Tower Climbs.
Tours.
Teas.
---
Part of European Heritage Days - a Council of Europe Initiative.
Heritage Open Days are co-ordinated by the Civic Trust which receives some funding from the Department for National Heritage. Hemyock Castle receives no funding, and makes no charge for entry on Heritage Open Days. Donations are welcomed to Sight Savers of Southern Sri Lanka.
---
Home | Books | Visit | Explore & More | Events | FAQs | Contacts
---
---
Hemyock Castle, Hemyock, CULLOMPTON, Devon, EX15 3RJ, UK.
© 2001–2021. Prepared and published by Curlew Communications Ltd