>> | Home | Books | Visit | Explore & More | Events | FAQs | Contacts
---
Hemyock Castle
---
Notable Owners
Over the centuries, several notable people have owned or been linked with Hemyock Castle.
---
Domesday Book
Hemyock Manor is listed in the 1086 Domesday Book as Hamihoch, held by King William, granted to Baldwin. In 1086, it appears to have been occupied by William Cheever. The church went to Torre Abbey and the manor to the Honor of Plympton.
For more information see: Hemyock in the Domesday Book.
---
Foliot
Hemyock Manor was granted to Robert Foliot by Richard de Redvers, Earl of Devon.

1195: Hemyock was in the King's hands as the result of an escheat.

1198: Robert Foliot's lands were in the joint possession of Geoffrey de Barenton, Thomas Foliot, Richard de Hidon and Emma de Botreaux, his grandchildren.
---
Hidons (or Hydons)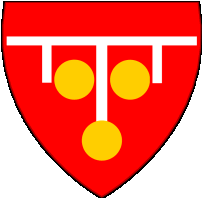 Hidon Shield
Between 1212 and 1228, Richard de Hidon became the sole lord of the manor of Hemyock. In 1238 he held it of the honoraria of Plympton.
In the late 13th Century, Margaret Hidon inherited the Manors of Hemyock and Clayhidon from her father Sir Richard Hidon, and the Manors of Morleigh and Storridge from her mother Isabel (née Fisacre).
---
Dynhams (or Dinhams)

Dynham Shield
Margaret Hidon married three times. In 1292, she married Joyce (or Josce) de Dynham, the eldest son of Sir Oliver Dynham of Hartland, another Norman family, originally from Dinnant in Brittany. They had two sons, John and Oliver. Margaret was widowed in 1300 or 1301.
In 1309 she married Sir Gilbert Knoville, a widower of Honyngton (ie. Honiton) Devon, who was Sheriff of Devon. They had no children. He died in 1314.
Margaret's son, John Dinham, came of age in 1316. Apart from brief periods, the Dinham family held the manor until the death of the last member, Sir John Dinham, in 1502. Sir John had been Sheriff of Devon and Lord High Treasurer of England.
For further details see: Dinham Family Line.
---
Sir Peter de Uvedale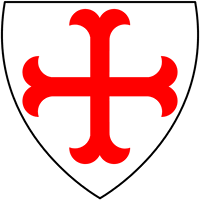 Uvedale Shield
In 1324, Margaret Hidon married her third husband, Sir Peter de Uvedale, a much younger man, born in 1296. They made Hemyock their home. They funded and endowed a perpetual Chantry in Hemyock Parish Church dedicated to the Blessed Virgin Saint Katherine.
Sir Peter died in 1336. Lady Margaret lived on until 1357. They are both buried under the floor of their Chantry Chapel, now incorporated into St. Mary's Church, Hemyock.
By an interesting coincidence, a descendent of the Uvedales later had dealings with General Simcoe who was then Lt. Governor of Upper Canada ....and also owner of Hemyock Castle:
In 1787, Mathew Udell from Ellastone, Staffordshire, was sent to Canada with the 26th or Cameronian Regiment. He later petitioned for a grant of land in Quebec but was refused in 1802. His son John Udell who had also served with the 26th Regiment had more luck: He successfully applied to General Simcoe for a grant of land. In 1795, he was granted land in Beverley Township, in the Niagara peninsula of Upper Canada.
With thanks to Walter Udell, a descendent of Mathew Udell, who has researched the Uvedale, Udall and Udell families. Walter Udell's family & castle webpages.
---
Sir William and Lady Margaret Asthorpe
(or Asthorp, or Hasthorp, etc)

Asthorpe Shield
In 1362 Sir William Asthorpe married the heiress Lady Margaret Dynham, then aged 15. Her brother, two sisters and father had all died, possibly from the Black Death, leaving Margaret to inherit the family's manors.
Margaret had inherited Hemyock and Clayhidon from the Hidons; Morleigh and Storridge from the Fisacres; Sampford Peverell, Aller Peverell and estates in Somerset from her grandmother Edith Cotel. These lands had been in the custody of her grandfather Sir Guy de Brien.
---
On 5th November 1380, King Richard II granted Sir William and Lady Margaret Asthorpe (née Dynham) a licence to crenellate their fortified manor house at Hemyock. Records include:
Entry in the Patent Rolls: 4 Richard II, Membrane 11, Nov 5th 1380, Northampton.


Summary: Licence for William Asthorp, knight, and Margaret his wife, to crenellate the dwelling house of their manor of Hemyok with a wall of stone and lime. By p.s.
On the same day, King Richard II also granted Sir William and Lady Margaret "free warren", ie. hunting rights, over all of their manors:
Entry in the Charter Rolls: 4 Richard II, Membrane 6, Nov 5th 1380, Northampton.


Summary: Grant, of special grace, to William Asthorpe, knight, and Margaret his wife, and their heirs, of free warren in all their demesne lands of Hemyok, Hidon, Sandford Peverel, Alre Peverel and Morlegh, co. Devon, and Camlerton, co. Somerset.
---
Sir William Asthorpe died in 1399, shortly after Lady Margaret, his wife. Because he was "illegitimate" and died without an heir, Sir William's estates including Hemyock Castle were taken into the King's hands before eventually reverting to his wife's family, the Dynhams.
For further details see: Asthorpe Family Line.
Note: Richard II had become king in 1377, when he was only ten years old. His reign included "The Peasants' Revolt in 1381," the continuation of The Hundred Years War with France, and many other crises. Sir William was probably regarded as a reliable, loyal supporter: a "king's man." Presumably, this explains why Sir William was permitted to marry the heiress Lady Margaret Dynham, and later why they were granted the licence to crenellate their Hemyock manor house. It is likely that Sir William was tasked with countering the power of the powerful local land-owners, who opposed and later helped to depose King Richard II. King Richard II was deposed and then murdered in 1399. This helps to explain the many conflicts and accusations involving Sir William.
---
Carew, Bourchier, Zouche and Arundell
In 1501, on the death of Sir John Dinham, Hemyock was divided between his four sisters and co-heiresses:
Margaret, who married Nicholas Carew.
Their son Vice-Admiral Sir George Carew died when the Mary Rose sank, in 1545, without heirs.
Their son Peter Carew died without heirs.
Elizabeth, widow of Fulk Bourchier, mother of John Bouchier first Earl of Bath.
Joan, who married Lord Zouche.
Catherine, who married Sir Thomas Arundell.
The Arundells also owned Wardour Castle near Shaftesbury, Wiltshire.
---
Further information is displayed at the Castle, and in the booklet "Hemyock Castle - The Continuing Story".
---
Home | Books | Visit | Explore & More | Events | FAQs | Contacts
---
---
Hemyock Castle, Hemyock, CULLOMPTON, Devon, EX15 3RJ, UK.
© 2001–2018. Prepared and published by Curlew Communications Ltd