>> | Home | Books | Visit | Explore & More | Events | FAQs | Contacts
---
Hemyock Castle
---
Notable Owners (continued)
Over the centuries, several notable people have owned or been linked with Hemyock Castle:
---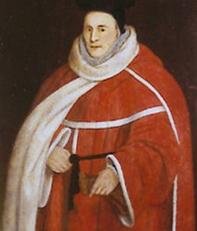 Lord Chief Justice Sir John Popham (1531 to 1607)
During the reign of Queen Elizabeth, Sir John Popham (Lord Chief Justice) bought the major part of the Manor. Although he disposed of part, the inquisition held after his death found that when he died, he possessed the whole hundred of Hemyock and the nearby Manor of Madford as well as two other estates elsewhere in the parish. Sir John rebuilt and lived at Old Court manor house in Mantle Street at nearby Wellington.
Sir John held a succession of important state roles during the reign of Queen Elizabeth I. In 1588, he was amongst the first to receive details of the Spanish Armada, by letter from a friend in Spain, brought via nearby Bridgwater port by a ship's master. The master also gave further eyewitness details about the Armada ships he had passed and seen. Sir John wrote reporting this to Lord Burghley, Lord High Treasurer of England. Sir Francis Drake was sent to prepare his fleet and defeat the Armada. Sir Francis even had enough time to play bowls!
As Attorney-General and then from 1592 Lord Chief Justice, Sir John was involved in sentencing to death:
Mary Queen of Scots (1587).
Earl of Essex (1601).
Sir Walter Raleigh (1603).
Guy Fawkes (1606).
"Remember, remember the 5th of November, gunpowder, treason and plot!"
Each year, bonfire and firework parties are still held throughout the UK to celebrate the capture of Guy Fawkes and the defeat of the "Gunpowder Plot" on 5th November 1605.
(Note. The original licence to crenellate Hemyock Castle had been granted on 5th November 1380.)
Sir John helped to found Blundell's School in Tiverton. Other local works included establishing and endowing almshouses. In 1606, he was even involved with Sir Fernando Gorges to found a colony in America, populated partly with sentenced "rogues and vagabonds."
Sir John Popham's Grisly Fate
There are many stories about Sir John, some doubtless invented by his enemies. Sir John Popham died on 10th June 1607. According to local legend, Sir John is reputed to have been rewarded for his controversial life by being thrown from his horse into Popham's Pit, a deep steep-sided boggy dell on the Blackdown Hills, dying horribly and descending to Hell.
He is named on his wife's grave stone in the nearby Wellington Church. However, according to legend, his body does not lie there: Every New Year's Eve his ghost is supposed to emerge from Popham's Pit and take one cock's step nearer to the grave. Until he has reached it, legend says that his soul will not Rest in Peace.
(See also: The History and Antiquities of the Town of Wellington, Somerset; Collected from Authentic Records by R.L. Thorne, 1950.)
After Sir John's death, his fortune – presumably including Hemyock Castle – was held in Chancery. The reasons for this are not clear, but it would have prevented or delayed his descendants from inheriting.
At least two of Sir John's grandsons were prominent supporters of the Parliamentary cause: General-at-Sea Edward Popham (1610 - 1651) and Colonel Alexander Popham (1605 - 1669). Wellington House, the Popham mansion at nearby Wellington, Somerset, was fortified and garrisoned for Parliament. Subsequently, the Royalists attacked and destroyed it.
During the English Civil War, Hemyock Castle was garrisoned for Parliament against the king. It was besieged twice and captured. Later, the castle was slighted.
---
Every, Leigh
Subsequently, Hemyock was sub-divided into parcels. The Castle and much of the manor of Hemyock was sold to the Everys. In the late 17th century the Everys improved the village's water supply by bringing a leat down from Shuttleton. St. Margaret's Brook which had fed the moat was diverted to its present course between Guard Houses and St. Mary's Church. The eastern part of the moat was filled in and became the farm yard. The site became known as "Castle Farm." The linhay barns and other farm buildings were built. It is likely that the old manor house was improved for use as a farmhouse.
In 1693, there was a serious fire in Hemyock which destroyed 24 dwelling houses, plus the Church House, as well as many barns &apm; stables etc. In the Devon Sessions Rolls for Midsummer 1693, the damage was assessed as 1024 Pounds 10 Shillings for the buildings, and 690 Pounds 10 Shillings for lost goods. Perhaps rebuilding after this fire provided the opportunity and the spur to re-organise the layout of Hemyock; and to improve its water-supply? (See Devon & Cornwall Notes & Queries, Vol 9, Pages 156 / 157.)
The Castle later passed by marriage to the Leighs of the Isle of Wight.
---
General John Graves Simcoe (1752 to 1806)
Elizabeth Posthuma Simcoe (1762 to 1850)
General John Graves Simcoe bought Hemyock Castle from the Leighs in the 1790s following his distinguished career in the New World. One of his first acts as the first Lt. Governor of Upper Canada (Ontario) had been to abolish slavery in the province. This helped not only slaves in Canada, but subsequently also allowed some 40,000 slaves escaping America to gain their freedom in Canada: Read more about Canada's 1793 abolition of slavery.
Earlier, during the American War of Independence, while Commander of Simcoe's Scouts, which included American Indians, he is reputed to have been "too much a gentleman" to shoot three escaping American Officers in the back. One of them later turned out to have been the young George Washington!
General Simcoe had visions of restoring Hemyock Castle to its former glory. Although he made a start, his duties as Lieutenant-General in command of coastal defence in Devonshire, defending against the threat of Napoleonic invasion, prevented him. He seems to have added some "Gothic" features during his remodelling of the old defensive tower at the southern end of the manor house, and also to the two castle Guardhouses.
In 1806, shortly before he was due to assume command of British forces in India, General Simcoe died of a sudden illness contracted during a diplomatic mission to Portugal.
Hemyock was inclosed in 1814. His widow, Mrs Elizabeth Posthuma Simcoe (née Gwillim) was recorded as the owner of the manor of Hemyock. She vigorously defended and successfully retained rights over much of the former common land around Hemyock and Madford.
In 1822 and again in 1850 Mrs Elizabeth Posthuma Simcoe was recorded still to be in possession of the manor. She died in 1850.
Wolford Chapel, near the Simcoes' Wolford Lodge mansion, was given to the People of Ontario, Canada. The Premier, John Robarts, accepted the title deeds in 1966.
Mrs Elizabeth Posthuma Simcoe was an accomplished artist. She kept an illustrated diary. Parts of her Canadian diary and illustrations can be seen at:
Most of the Simcoes' archives are now held in Canada.
---
Peter Orlando Hutchinson (1810 to 1897)
In 1851, when Peter Orlando Hutchinson the prolific Sidmouth artist first visited the Castle with his photographer friend Heineken, they too wanted to preserve Hemyock Castle. Although not an owner, Hutchinson returned several times, painting many views of the Castle and surrounding countryside.
Five volumes of his illustrated diaries and over 750 of his sketches are stored in the Devon Records Office. Recently, a East Devon AONB project has made the Peter Orlando Hutchinson archives available online.
Peter Orlando Hutchinson was great grandson to Thomas Hutchinson (1711-1780) the controversial Governor of Massachusetts, prominent in events such as the Boston Tea Party that led to the American Revolution. In 1837/38, Peter travelled to America in search of possible inheritances. This journey also took him to Niagara and Quebec. He produced about 100 sketches of his trip. In the 1880s, Peter collated and published two volumes of his great grandfather's papers.
---
Barton
1925: Mrs Barton of Castle Cottage, Hemyock was recorded as the owner. (Castle Cottage is just beyond the southern edge of the castle moat.) Members of the family still live in the area.
---
Lord
By the 1970s, the lands had been sold and a small housing estate had been built on the old castle cider orchard beyond the western edge of the moat. The manor house was in disrepair. The Lords bought the site and began extensive repairs to the house.
---
Captain & Mrs W W Sheppard
Following a distinguished Naval career, they bought Hemyock Castle in the early 1980s. Much of the site had become derelict - the Castle had even been removed from the official Ordnance Survey Maps. All records had been lost - many having been stored in Exeter, were blitzed during the intense WWII bombing. In the 1980s, a visiting regional government inspector actually proclaimed that remains of Hemyock Castle were nothing more than "a Victorian garden ornament!" He claimed that no-one was building castles in the 1380s.
(Documents at the UK Public Records Office show that during 1380, Richard II granted only the "licence to crenellate Hemyock Castle." However, during 1379 he had granted licences for six other castles. He granted the licence to crenellate Bodiam Castle in 1385.)
The Sheppard's literally put the Castle back on the map. Together with Dr Sheppard, they completed repairs to the formerly derelict Manor House, extensively conserved the Castle remains and opened the site to visitors. Many visitors have stayed at the newly converted Guard Houses, Oliver's Bay, and Mow Barton.
The results of their efforts and researches are now on display. Work continues.
Mrs Phyllis Mary Sheppard died in November 1995.
Captain William Wallace Sheppard OBE RN died in October 1998.
---
Further information is displayed at the Castle, and in the booklet "Hemyock Castle - The Continuing Story".
---
Home | Books | Visit | Explore & More | Events | FAQs | Contacts
---
---
Hemyock Castle, Hemyock, CULLOMPTON, Devon, EX15 3RJ, UK.
© 2001–2018. Prepared and published by Curlew Communications Ltd