>> | Home | Books | Visit | Explore & More | Events | FAQs | Contacts
---
Hemyock Castle
---
Heritage Open Days 2017 in Hemyock, Devon
---
On Sunday 10th September 2017, from 2 to 5 pm, Hemyock Castle and Village again take part in this hugely popular celebration of culture and heritage.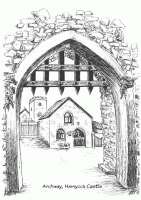 Hemyock is set in the now tranquil Culm Valley within the beautiful Blackdown Hills in Devon, just a few miles from the M5 Motorway and Taunton. Hemyock Castle is a scheduled Ancient Monument. Although situated in the heart of Hemyock village, the castle site is screened by trees and walls so surprisingly little can be seen from the road.
---
Special events on Sunday 10th September 2017 from 2 to 5 pm include:
Hemyock Castle: Sunday 10th (2 to 5 pm):

Special Audio Displays: Local History & Castle Cider-Making
Dungeon - archaeological finds
Ancient Cider Press
Farming Tools
St. Mary's Church: Sunday 10th (12:30 to 5 pm):

Celebrating 750th Anniversary at St. Mary's Church
Display of church records and the church's social history
Teas
Note.
St. Mary's Church is also open on Friday 8th & Saturday 9th, 10 to 5 pm.
---
Hemyock Castle
Across the stream bordering the Western Churchyard wall is Hemyock Castle. Visitors can follow the trail around the moated Medieval castle ruins and view displays illustrating 700 years of the site's history.

In 1380, King Richard II granted a licence to crenellate the fortified manor house; effectively giving "planning permission" for the castle. During the English Civil War the castle was garrisoned for Parliament against King Charles I. Royalist captives were imprisoned until either they changed sides or were ransomed by their friends. Therefore, when King Charles II was restored to the throne he ordered the castle be "slighted" - its walls and towers were breached so that it could never again be held against the King. Later, the old manor house became a farm house, the old castle buildings were adapted, and the ruins were "quarried" for stone. For the next 300 years until the early 1970s, Hemyock Castle was Castle Farm.

We look forward to seeing you during the Sunday afternoon.
---
Heritage Open Days are part of European Heritage Days - a Council of Europe Initiative. They are co-ordinated by The National Trust. Hemyock Castle receives no funding, and makes no charge for entry on Heritage Open Days. We welcome donations to The Blackdown Support Group & Musgrove Leukaemic Group Somerset.
---
Further information:
Postcode of Hemyock Castle: EX15 3RJ.
---
Background
This year, Heritage Open Days activities will take place throughout Britain between the 7th and 10th September. Around 750,000 visitors will take part in the weekend - making the most of the opportunity to visit an intriguing selection of homes, offices, castles, churches, prisons, windmills, architectural Oddities, contemporary design classics and historical gems - all free of charge to visitors.
Over 40,000 volunteers across the UK will work behind the scenes on over 5000 events, to stage "the best day out in history." This is our annual chance to gain access to parts of our local communities that are normally restricted, learn a little more about where we live and - most important of all - have a great free day out.
Notes to Editors
Heritage Open Days is co-ordinated and promoted nationally by the National Trust with funding by players of People's Postcode Lottery, and run locally by a large range of organisations (including civic societies, heritage organisations, and local councils, community champions and thousands of enthusiastic volunteers). Hemyock Castle receives no funding, and makes no charge for entry on Heritage Open Days.
Heritage Open Days is England's contribution to European Heritage Days, taking place in 50 countries all across Europe. Similar events are held elsewhere in the UK & Europe:
---
---
Home | Books | Visit | Explore & More | Events | FAQs | Contacts
---
---
Hemyock Castle, Hemyock, CULLOMPTON, Devon, EX15 3RJ, UK.
© 2001–2018. Prepared and published by Curlew Communications Ltd