>> | Home | Books | Visit | Explore & More | Events | FAQs | Contacts
---
Hemyock Castle
---
North West Tower
Recent conservation work has uncovered extensive areas of the external rendering believed originally to have covered the outside of the curtain walls and towers.

Rendering on the NW Tower
The remains of the NW tower had appeared very precarious and it was covered with ivy vines. Some of these vines were as thick as my wrist. Experts had debated whether the ivy was supporting the tower and its leaves shielding the mortar from the rain; or whether its roots were destroying the masonry. Eventually they decided to remove the ivy, uncovering unexpectedly large areas of well preserved rendering. The masonry was then stabilised.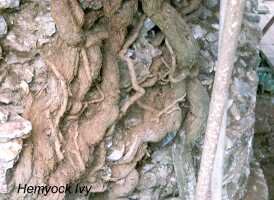 Thick Ivy on NW Tower
(beside a scaffolding pole)
Living thatch - special turf - was fitted to the top of this tower and the other walls to protect them from the weather.

Fitting the Living Thatch to the NW Tower
The NW tower has now been stabilised and conserved. Its masonry proved to be more substantial and better preserved than had been expected.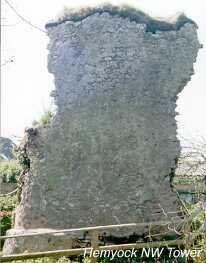 Rendering on the NW Tower
---
Geophysical Survey 1999
The western part of the castle enclosure was surveyed by English Heritage (now Historic England), in February 1999. The results suggest the likely location of the western curtain wall, and possible western entrance. Their Report 14/1999 can be viewed at Report 14/1999, http://research.historicengland.org.uk
Much further work is needed to understand the site, but this survey has added considerable interesting evidence.
---
Hemyock Castle is a scheduled ancient monument, there are now very strict rules which govern any maintenance or conservation work. Most of the other buildings on the site are also listed, so are also covered by strict rules.
Hemyock Castle is privately owned. The manor house is a private family house. The owners pay for the conservation and maintenance. English Heritage has made welcome contributions towards the high costs of specialist skilled workers and authentic materials.
---
---
Home | Books | Visit | Explore & More | Events | FAQs | Contacts
---
---
Hemyock Castle, Hemyock, CULLOMPTON, Devon, EX15 3RJ, UK.
© 2001–2018. Prepared and published by Curlew Communications Ltd